About us
We plastic mold parts
Shantou Dingxin Metal Products Co.,Ltd. was founded in 2007,located inChenghai,th e "China Toys City". our modern factory covers a n area of15,000 square meters. We develop, design, produce, and sell precisionmold parts.Our products mainly include guide pins, guide bushings,Self-lubrication straight middle bush,Cylindrical guide bush,Drawbar water edge,self-lubricating sleeve,ejector sleeves,ejector blades, stepped eje ctor pins, in serts,and other precision mold parts that adhere to HASCO, D-M-E,M iSUMi standards.
our company is equipped with more than 100 pieces of imported production equipment, several high-end multifunctional heat treatmentfurna ces, and precision testinstruments. We adopt an advanced and soundtechnological process as well as the ERP ma nagement system to ensureproduct quality and on-time delivery.
We always put quality and customers first, uphold honesty and pursueexcellence.We are committed to providing better products and services toour clients and willing to go hand in ha nd with them for a brighter futu re!Excellent precision and high abrasion resistance.
we are your best choice for precision mold parts!
Cultue
Dingxin Metal
The modern enterprise adheres to human-oriented philosophy and takes staff as the fortune. All rivers run into the sea. Talents are just like the rivers. We respect talents, and create harmonious, passionate environment for employees.
During these years, Dingxin is a struggling, competitive, but considerate collective. Our administrators are always considering employees and praising for their progress. Even the comments or judges are sincere. We try to do every work meticulously to realize the targets and ideals of both employees and company.
Besides employees' living conditions, we strive for an ideal living manner, struggling target, healthy working environment, harmonious working atmosphere. Each staff is qualified of good social responsibility, solidified teamwork, and contribution to the work.
To be devoted to the development of our company and convinced of that is the faith of every employee.
Brand is the root of Dingxin. Dingxin has always been developed fast since its establishment owing to the brand effect of "noble quality, sincere service"
Videos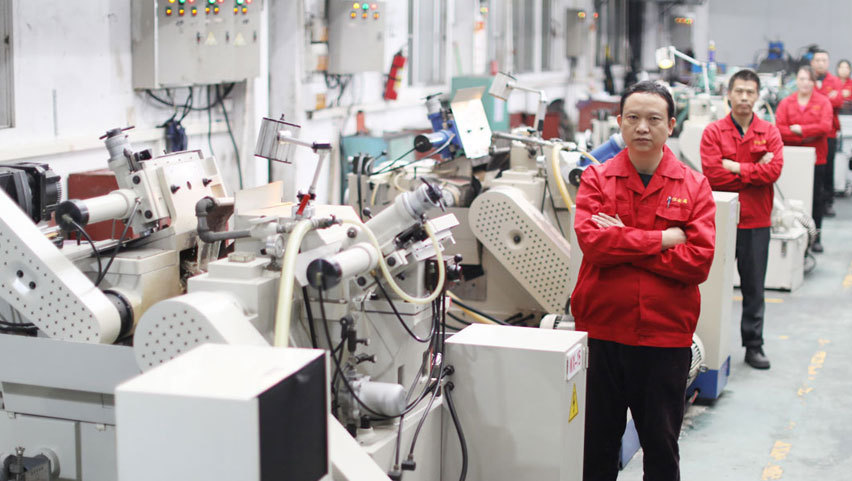 Workshops
The company's existing Taiwan key and unintentional grinding, Taiwan Zhangzhong unintentional grinding, Taiwan's economic saws and other high-precision CNC lathes, CNC grinding machines dozens of Taiwan, and equipped with the Japanese Mitutoyo meter, Pneumatic measuring instrument and Rockwell hardness tester and other testing equipment to ensure that the processing accuracy of the product.